| | |
| --- | --- |
| | Italia News Partner Latest news from Italy and the world |
| | | | | | |
| --- | --- | --- | --- | --- | --- |
| | | United Nations Media Partner | | | |


United Nations, Israel-Palestine crisis: First evacuations from Gaza; outrage grows over refugee camp strikes
Nazioni Unite, crisi israelo-palestinese: prime evacuazioni da Gaza; cresce l'indignazione per gli scioperi nei campi profughi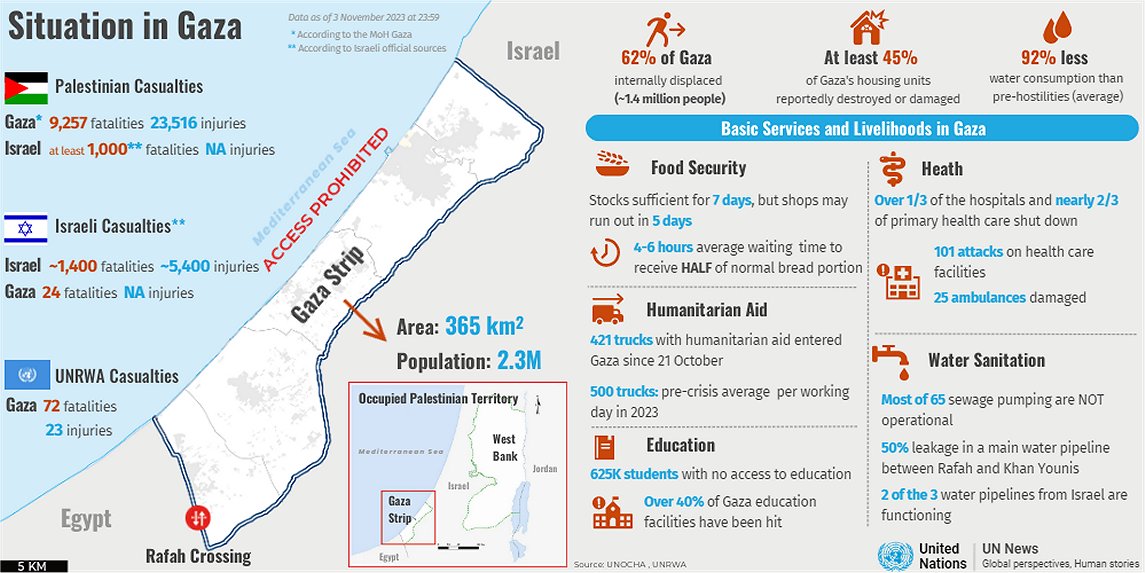 (International News Press Agency) - (EN) UN health agency chief Tedros Adhanom Ghebreyesus welcomed Egypt's decision on Wednesday to accept dozens of the most critically sick and injured from the stricken Gaza Strip for treatment. Meanwhile, the UN relief chief has said a "step change" is needed in what has now become "a global crisis." (IT) Il capo dell'agenzia sanitaria delle Nazioni Unite, Tedros Adhanom Ghebreyesus, ha accolto con favore la decisione dell'Egitto di mercoledì di accogliere per cure dozzine tra i malati e i feriti più critici della Striscia di Gaza colpita. Nel frattempo, il capo dei soccorsi delle Nazioni Unite ha affermato che è necessario un "cambio di passo" in quella che ora è diventata "una crisi globale".
"Questa è una crisi globale": capo dei soccorsi delle Nazioni Unite - La guerra tra Israele e militanti palestinesi a Gaza ha creato una "crisi globale" che richiede un'azione internazionale prima che si diffonda "ben oltre la regione", ha affermato mercoledì in una dichiarazione il coordinatore degli aiuti di emergenza delle Nazioni Unite. "Così non possiamo andare avanti. Abbiamo bisogno di un cambio di passo", ha aggiunto Martin Griffiths. Abbiamo bisogno che gli ostaggi vengano rilasciati immediatamente e senza condizioni. Dobbiamo essere in grado di fornire gli elementi essenziali per la sopravvivenza – in particolare acqua, cibo, medicine e carburante – in modo sicuro, immediato e su larga scala. Gli oltre 200 camion che sono entrati a Gaza finora dopo scrupolosi negoziati offrono un po' di sollievo, ma non sono abbastanza vicini." Ha detto che le pause devono essere concordate come "l'unica opzione praticabile per portare aiuti umanitari a Gaza in questo momento". Israele, Hamas e altri militanti devono "rispettare i loro obblighi ai sensi del diritto internazionale umanitario, anche prestando costante attenzione nella conduzione delle operazioni militari per risparmiare i civili e i beni civili". Gli attori internazionali con influenza devono usare la loro forza diplomatica per garantire il rispetto delle regole di guerra per proteggere la vita civile e "ridurre il conflitto ed evitare ricadute".
Il capo dell'agenzia sanitaria delle Nazioni Unite, Tedros Adhanom Ghebreyesus: "Abbiamo lavorato con il Ministero della Sanità egiziano sulla pianificazione delle evacuazioni mediche e continueremo a fornire supporto", ha affermato il capo dell'Organizzazione Mondiale della Sanità (OMS). L'OMS ha affermato che 81 persone sono state autorizzate a entrare in Egitto per cure. I suoi commenti sono arrivati nel contesto delle notizie secondo cui il terminal passeggeri di Rafah tra Egitto e Gaza è stato autorizzato ad aprire in via eccezionale mercoledì mattina per la prima volta dal 7 ottobre, per consentire la partenza dall'enclave di alcuni palestinesi feriti, nonché di stranieri e di persone con doppia identità. nazionali. Il valico di Rafah è l'unico punto di ingresso non controllato da Israele, che ha imposto un blocco all'enclave nel 2007 dopo che i militanti di Hamas hanno preso il controllo della Striscia di Gaza.
"Bisogni molto maggiori" - Tedros ha avvertito sulla piattaforma social X che " l'attenzione non deve essere distolta dai bisogni ben più grandi di migliaia di pazienti a Gaza " e ha ribadito le richieste per la protezione degli ospedali e una "immediata accelerazione" nel flusso di aiuti medici nella Striscia. Martedì ha visto l'ingresso a Gaza il più grande convoglio da quando è ripresa la consegna degli aiuti via Rafah il 21 ottobre, composto da 59 camion che trasportavano acqua, cibo e medicinali, secondo l'ufficio di coordinamento degli affari umanitari delle Nazioni Unite (OCHA). Tuttavia, l'ingresso di carburante, "disperatamente necessario per far funzionare le attrezzature salvavita", rimane vietato, ha affermato l'OCHA. In una dichiarazione appena rilasciata tramite X, l'OMS ha affermato che tra le persone in grave bisogno a Gaza figurano migliaia di civili gravemente feriti (molti dei quali bambini); più di 1.000 persone che necessitano di dialisi renale per sopravvivere; più di 2.000 necessitano di terapie contro il cancro; 45.000 persone con malattie cardiovascolari; e più di 60.000 persone con diabete.
Condizioni degli ostaggi sconosciute - All'inizio della giornata, il capo dell'OMS Tedros ha dichiarato in un post sui social media che l'agenzia continua ad essere seriamente preoccupata per la condizione dei 240 ostaggi presi in Israele da Hamas il 7 ottobre - "in particolare bambini, donne, anziani e persone con disabilità". condizioni di salute che necessitano di cure mediche immediate". Ha ribadito le richieste per il loro rilascio immediato.
'Pagamento terribile' per i giornalisti' - L'OCHA ha osservato che l'operazione di terra israeliana nel nord di Gaza e nella periferia della città di Gaza sta diventando sempre più intensa, insieme ai continui bombardamenti. Martedì sono stati segnalati attacchi aerei israeliani sul quartiere densamente popolato di Jabaliya, a nord di Gaza City, che ospita il più grande campo profughi dell'enclave, che ospita circa 116.000 persone. Affrontando la questione delle minacce ai giornalisti di tutto il mondo, il capo delle Nazioni Unite António Guterres ha scritto mercoledì sulla piattaforma social X che il conflitto in Medio Oriente sta imponendo loro un "pedaggio terribile" e ha chiesto migliori garanzie per "difendere i giornalisti che ci tengono prigionieri". informato". Martedì l' ufficio delle Nazioni Unite per i diritti umani OHCHR ha espresso preoccupazione per le notizie di giornalisti palestinesi uccisi sotto i bombardamenti israeliani e ha ribadito che i giornalisti sono civili e non dovrebbero essere presi di mira, mentre il personale militare che li prende di mira deve essere ritenuto responsabile. (Credit UN News: Italia News Press Agency - Media partner United Nations)

---
Italia News Press Agency - Hamas vs Israel, chronicle of a foretold war. Hamas vs Israele, cronaca di una guerra annunciata. La mattina del 7 ottobre 2023 un attacco di Hamas è stato lanciato dalla Striscia di Gaza cogliendo di sorpresa Israele. Un attacco con migliaia di razzi sparati sulle città israeliane, nonchè con una invasione via terra dei miliziani islamici che hanno oltrepassato il confine dalla Striscia, uccidendo 1.400 israeliani e ferendone 3mila tra intere famiglie con bambini, giovani ad un concerto e cittadini stranieri. La striscia di Gaza dalla quale è partita l'attività terroristica di Hamas è una regione costiera di 360km2 popolata da più di 2 milioni di persone, di cui 1 milione e 400mila rifugiati. Dal 2007, due anni dopo il ritiro israeliano, Hamas ha preso il controllo della Striscia. Oggi a Gaza l'80% della popolazione vive grazie agli aiuti umanitari soprattutto dei paesi europei e Usa, mentre il tasso di disoccupazione sfiora il 50%. Ecco la storia di una convivenza impossibile, anche attraverso i nostri reportage giornalistici in Israele e Cisgiordania. (Giorgio Esposito, international journalist)

Children survive conflict


Paralympics Tokyo 202

0


Climate action


Climate disasters


Afghanistan, prohibit torture
| | | | | |
| --- | --- | --- | --- | --- |
| United Nations Day | Conflict: protect children | School Violence and bullying | Human traffick & forced marriage | Healt: cercival cancer |
Riproduzione non consentita ©
Segretario generale delle Nazioni Unite, António Guterres -

Prima della nomina a Segretario generale nel 2017, Guterres è stato Alto Commissario delle Nazioni Unite per i Rifugiati (UNHCR) dal giugno 2005 al dicembre 2015. Precedentemente, ha trascorso più di 20 anni nel governo e nel servizio pubblico, come primo ministro del Portogallo dal 1995 al 2002. In qualità di presidente del Consiglio europeo all'inizio del 2000, ha poi guidato l'adozione dell'Agenda di Lisbona. È stato inoltre membro del Consiglio di Stato portoghese dal 1991 al 2002 e ancor prima (1976) eletto nel Parlamento portoghese dove ha servito come membro per 17 anni.

>>>